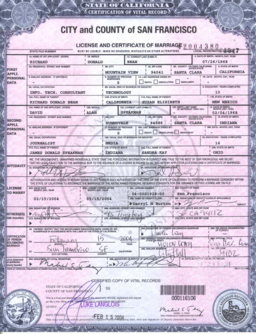 California Two Minute Wedding Ceremony
A California two-minute wedding ceremony is ideal for couples requesting a wedding officiant or minister to just sign their marriage license without a full wedding ceremony.
This can happen when the couple is filing a marriage license for practical or legal reasons. Some couples want to file a marriage license without having a full wedding ceremony. A two-minute wedding service provides your legal requirements to file your marriage license in California.
Fulfilling Legal Requirements For Your Marriage License
To fulfill the legal requirements for your marriage license. You are required to have your marriage "solemnized" which is a term that refers to the required formalities of a legal marriage ceremony.
There are only two necessary elements to a wedding ceremony:
One minute: in the presence of your marriage officiant or minister you both must clearly express your intent to be married; and
Minute Two: your officiant or minister must pronounce you married and complete the marriage certificate at the bottom of your marriage license.
CA Two Minute Wedding Ceremony | Venue Location
Our venue is located in San Rafael, California by appointment only. Venue details are provided at the time of booking. San Rafael is about 40 minutes from San Francisco depending on the time of day. It is over the Golden Gate Bridge in Marin County. In beautiful Northern California.
To avoid Bay Area traffic issue, it is best to plan an appointment between 11 am – 1:00 pm.
California Two Minute Wedding Ceremony | Booking
Appointments can be made at the last minute. One witness can accompany you. If you are having more guests please review the Basic Wedding Package.
Book Your Wedding Today!
To book your two-minute wedding ceremony:
Click on the add to cart button and check out.
Sign the online contract which will ask for the wedding date, time, contact information.
Once your booking is received you will receive a confirmation with the next step of details. This package is straight forward and involves minimum details.
It's as easy as 1,2,3!
Confidential Marriage License | No Witness Required
With a confidential marriage license, you do not need a witness. When it is just the two of you, apply for a confidential marriage license to avoid the need for a witness to sign your marriage license. Only the officiant signs.
California, however, is the only* state that offers both a regular public marriage license and a confidential marriage license. … A confidential marriage license is legally binding, just like a public license, but it's not part of the public record. A California marriage license you be used in any county in California.
When you opt for a public license you need a witness to sign the license. If they sign incorrectly this will delay your paperwork and incur additional fees with city hall.
Booking
Required for booking: Review Contract & Sign ~ Sign via the signature link at the end of the contract.
California Two Minute Wedding Ceremony
$300 Two-Minute-Wedding :
After Your Marriage License Filing
The application for a certified copy of your marriage license can be obtained at the county recorder where you applied for your marriage license. Here is a link to the application. There is a fee for each copy of $15.00.
Address For San Francisco
SF Assessor-Recorder | 1 Dr. Carlton B. Goodlett Place | SF City Hall, Room 190 | San Francisco, CA 94102-4698
City Halls with easy appointments include: Santa Rosa, Santa Cruz, Monterery, and Auburn. Many of the city halls book appointments far in advance due to the demand. Always email before heading out to see if there have been changes. They respond to email quicker then phone calls.