Blue Angel Jets Off To Renew Vows
Louisiana, home to the USS Kidd Navy destroyer is where Holly was raised. Twenty three years ago she began working for the U.S. Navy and on January 16, 1999 Holly and Jerry exchanged wedding vows in a quick ceremony while serving the U.S. Navy.
As a Navy pilot, Lieutenant Holly Taylor joined the Blue Angel team in 2012. At 36 she was assigned to the Helicopter Anti-Submarine Squadron Light 49 as an administration officer.Taylor was the second woman to join the team in 2012, alongside returning squadron member Lt. Katie Kelly.
UA Graduate is a member of U.S. Navy's Blue Angels
Recent Deployment On American's Favorite Carrier
In 2013 Holly moved to San Diego and starting working on the USS Carl Vinson (CVN-70). She was deployed from August 2014 through June 2015.
Statistics from their most recent deployment include:
281 days deployed
251 days underway (at sea)
183 days in gulf
14,189 flights
2,375 combat Flights
868 bombs dropped
82,800 miles sailed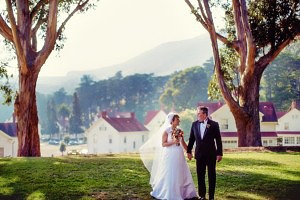 Northern California Destination Marriage Renewal
December 6, 2015 ~ Holly and Jerry renewed their marriage vows with a Northern California Destination ceremony. On the green terrace overlooking the San Francisco Bay on the lovely grounds of Cavallo Point Resort, which was once a US Army base. I was honored to officiate their wedding renewal ceremony. I was touched by the sweetness of the love they shared. I was struck by Holly's background and involvement with the U.S. Navy and the Blue Angels.
After the wedding renewal ceremony, Holly mailed me a thank you note with a Commanding Officers USS Carl Vinson CVN 70 Gold Eagle Power From The Sea coin. "As a thank you for making their ceremony so meaningful and so beautiful!" Such a deeply moving gift to receive. I felt so acknowledged. It was timed at the same time as my son's returned from being a Marine.
It was a joy to my heart to be involved in Holly and Jerry's wedding renewal. A real inspiration to meet Holly and get to know how much she has impacted the world with her work. I am very grateful for being invited to share in this uniquely special moment in time.
Thank you Holly and Jerry for your service, work and commitment to our freedoms. You are an inspiration.